The Supreme Headquarters for the Allied Powers of Europe
Image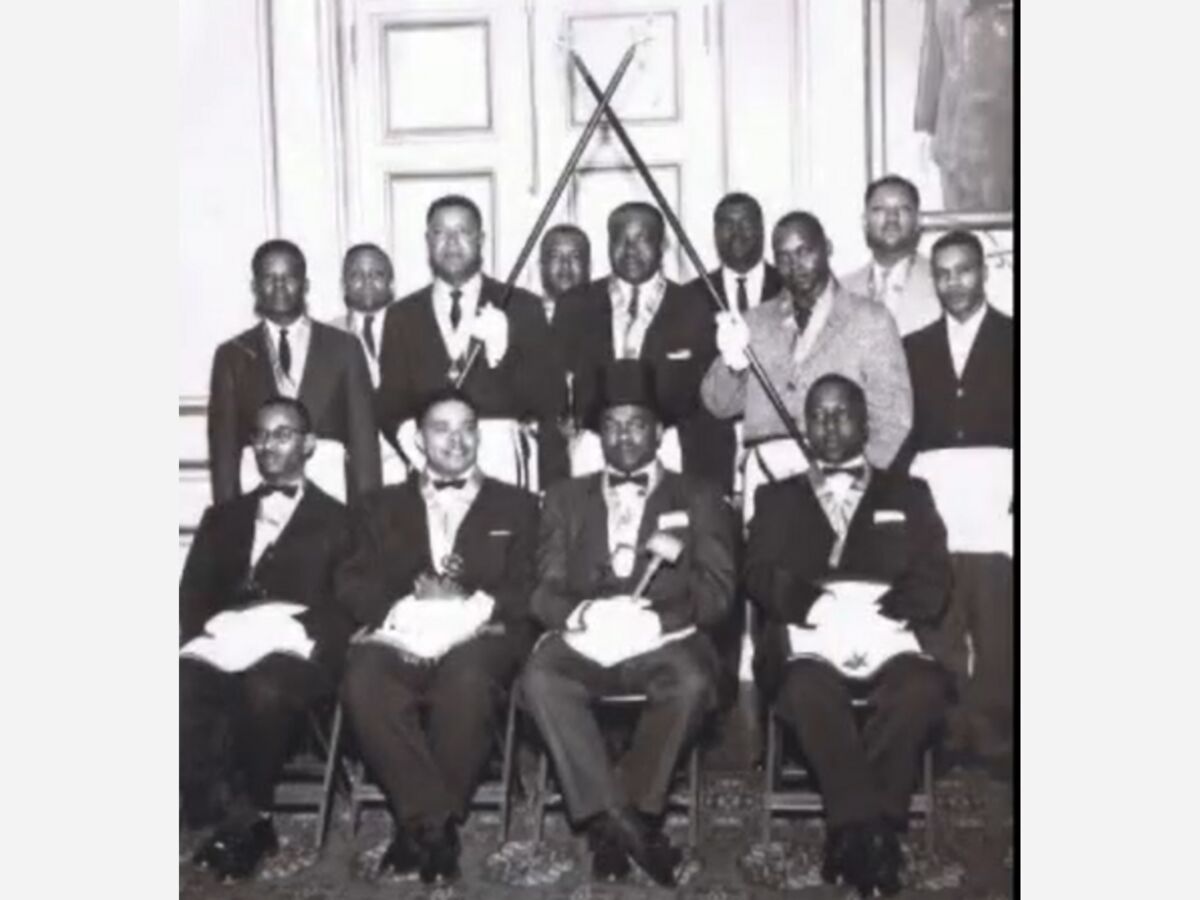 James Fairley and his comrades completed 190 'Tops in Blue' talent showcases in a 35,000-mile world tour at 155 different military bases in just 210 days.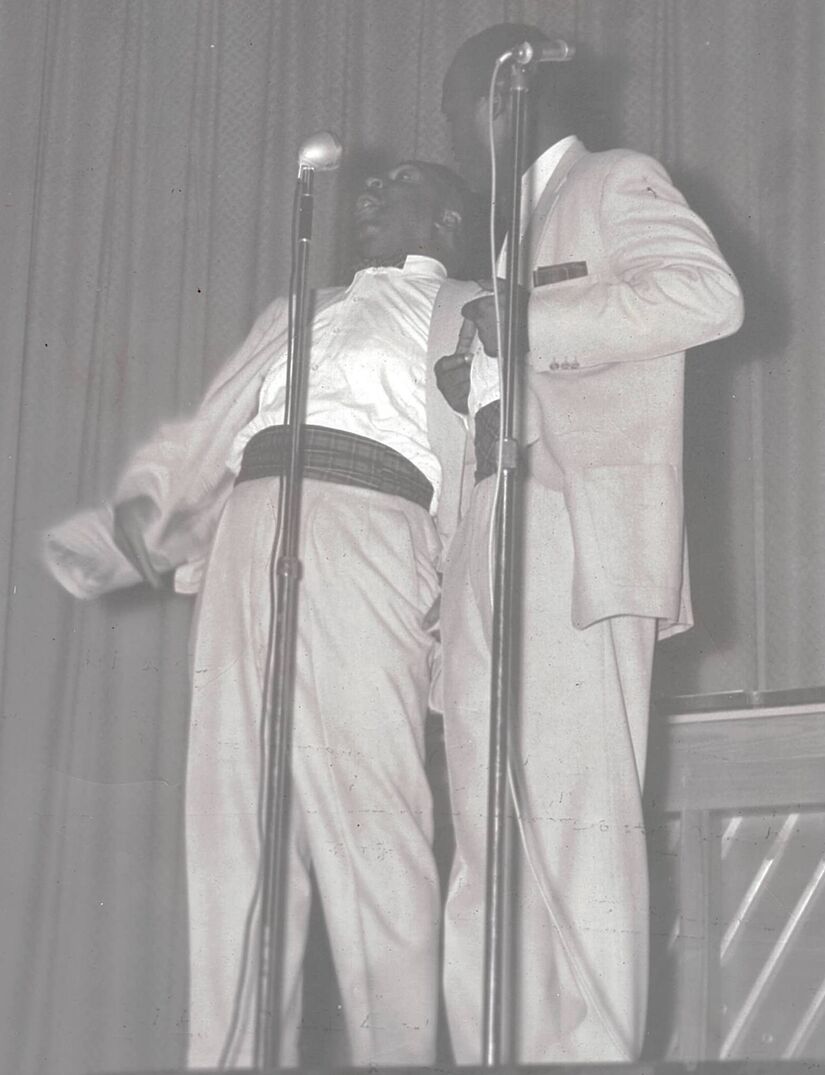 The performance ensemble members, who had appeared on the Ed Sullivan show a second time on Aug. 5, were now famous.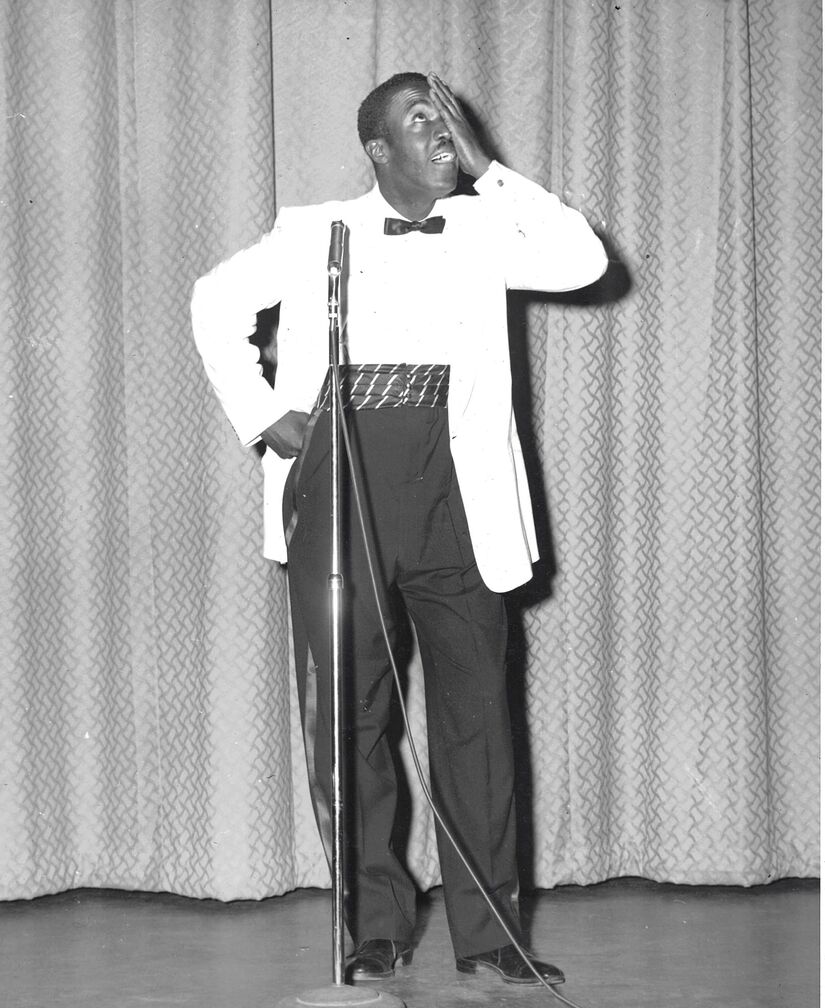 By the time the troupe arrived overseas, the after parties were integrated and more sophisticated. 
Big Jim found himself socializing in Paris, London, Casablanca, and Istanbul with the rich and famous over champagne and fine liqueurs.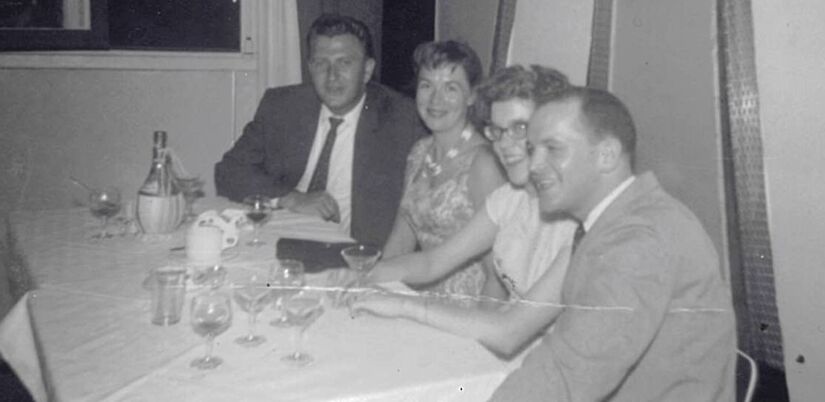 He rubbed shoulders with celebrity musicians like American drummer Charli Persip, American jazz saxophonist Phil Woods and Hollywood movie starlets like Olivia de Havilland and Mae Martin.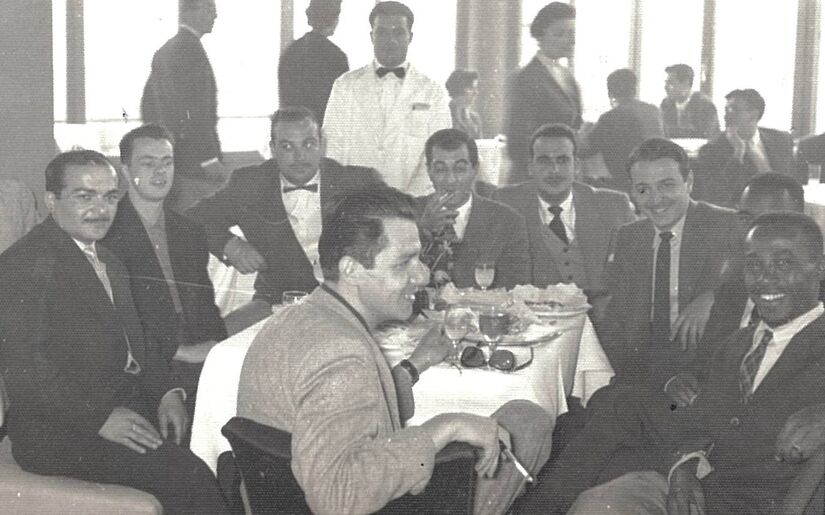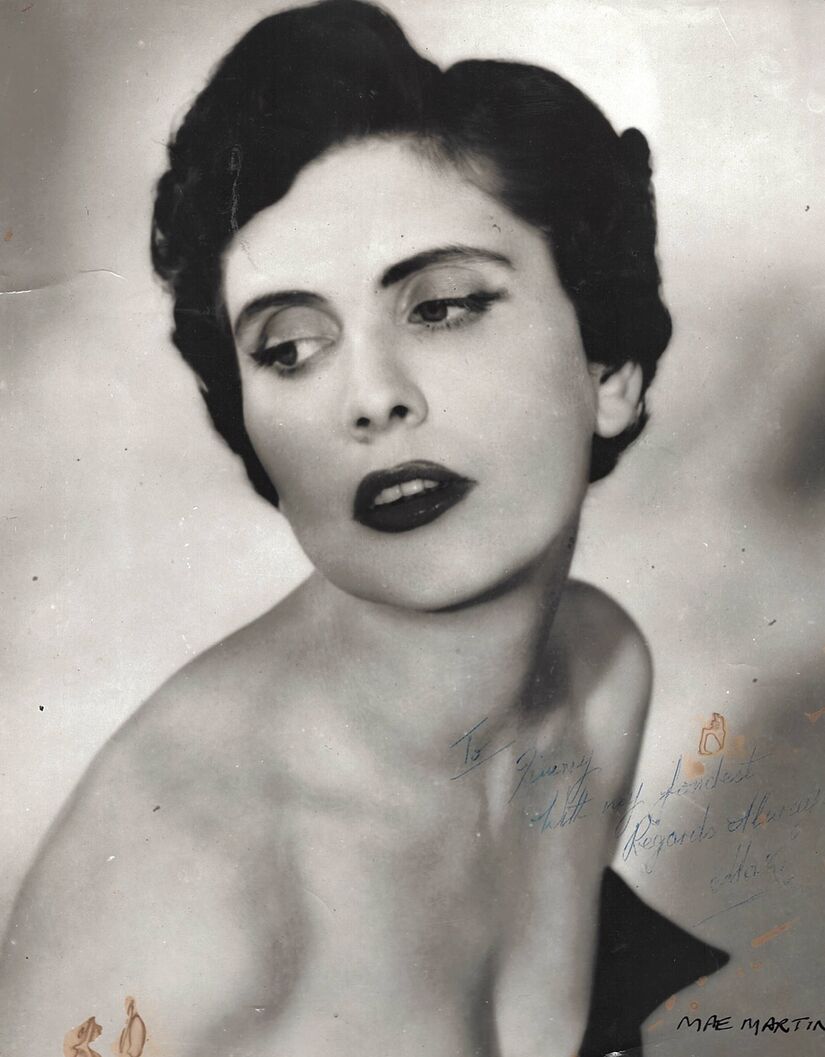 Letters of appreciation addressed to the chief of the United States Air Force Entertainment Division poured in from Erding Air Station in Germany, Bryan Air Force Base in Bryan, Texas, James Connelly Air Force Base in Waco, Texas, Lake Charles Air Force Base in Louisiana, Orly Air Base in Paris, France, and many others.
Irene Schilling, service club director for Ramstein Air Base in Germany wrote in a Jan. 17, 1957 letter,
"It made us proud and happy to be associated with our Special Services Program. The show itself in its material, composition, and variety far surpassed many professional shows that we engage."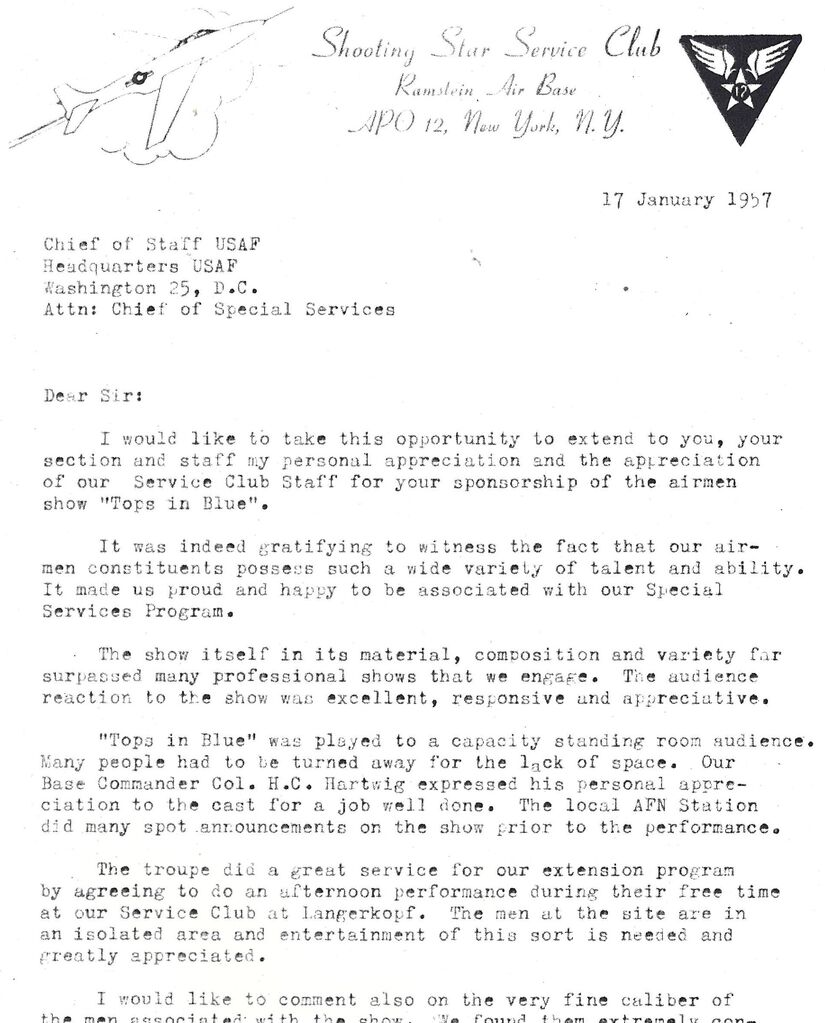 Colonel Harry Burrell from Greenham Common Royal Air Force in England wrote on Dec. 1, 1956,
"The show was well organized, highly entertaining, and sufficiently diversified to provide entertainment for all. Certainly, more entertainment of this nature should be provided as a morale factor overseas."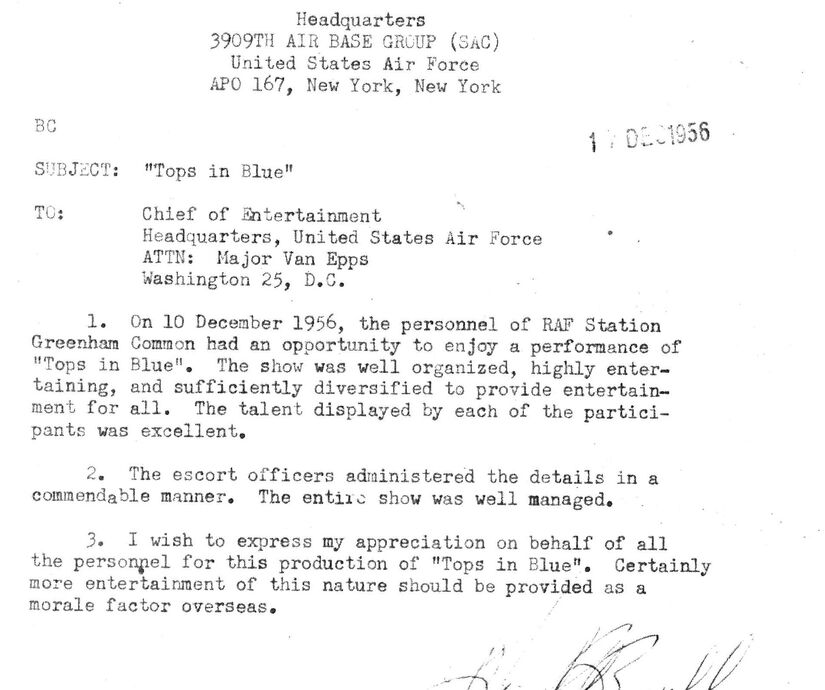 Flieger Haus Service Club Director Ingrid K. Sommer at Landstuhl Air Base in Germany wrote on Jan. 23, 1957,
"Without question, this was one of the most enthusiastically received programs to come to the club. The tremendous ovation offered each performer by the over-capacity crowd plus the hundreds of fine comments and compliments the staff received in reference to the 'Tops in Blue' show, indicated the value and success of such a talent program. We feel it is an extremely worthwhile opportunity for these outstanding performers to bring their talent to the military personnel audiences overseas and a great asset in our efforts to increase and better the morale of the airmen."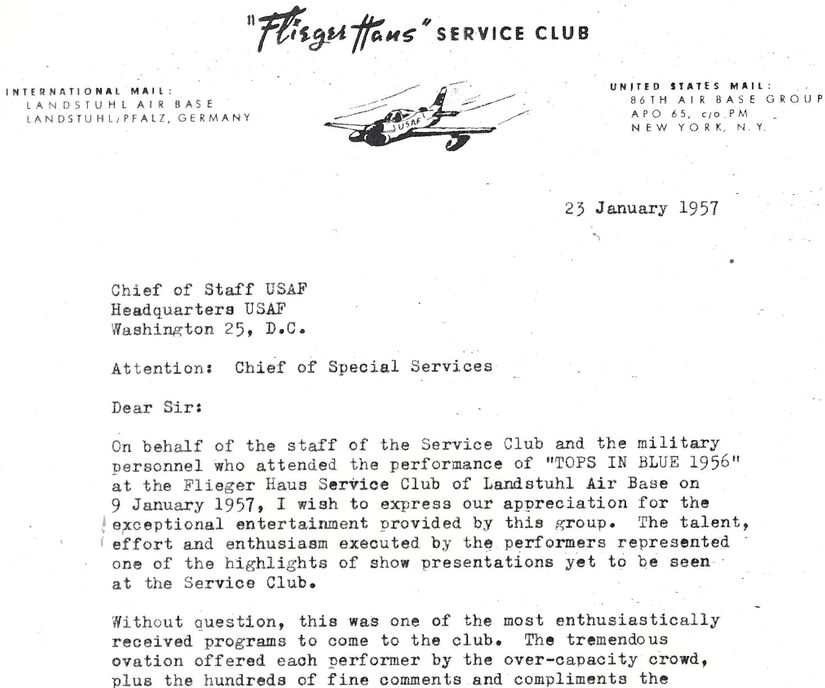 Iceland Air Defense Force Colonel S.E. Manzo wrote,
"I wish to express my sincere appreciation to the members of the Tops in Blue of 1956 for the excellent entertainment afforded the members of my command during the week of Aug. 13. In addition to performing at the Service Club, the troupe also gave performances at the Officers' and Civilian Open Messes and the remote sites."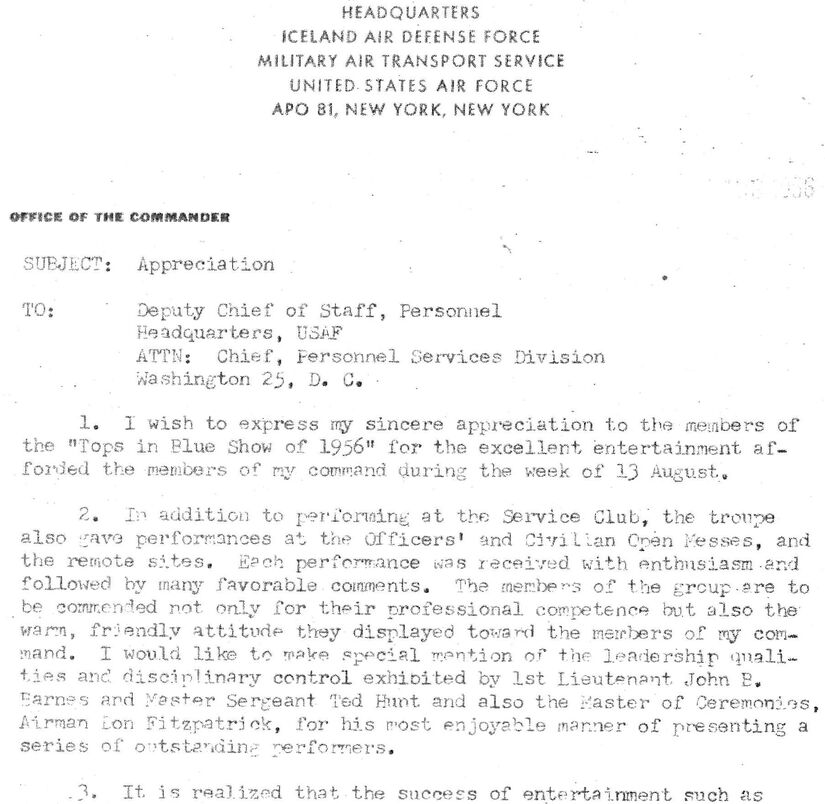 O.C. Griffith, the Lieutenant Colonel of Phalsbourg Air Base in France, wrote,
"I wish to express my sincere appreciation on behalf of all the personnel at Phalsbourg Air Base, France, for the excellent show 'Tops in Blue' which was presented here Jan. 4, 1957. The entire cast was outstanding and the largest crowd in the history of the base turned out to see the performance."
With all of the accolades under his belt, Fairley carried on his musical and performance career and began directing talent showcases after he completed his performance assignment with Tops in Blue in February 1957.
In 1958, he was awarded a Good Conduct Medal Clasp with 2 bronze loops for his demonstration of honor, efficacy, and fidelity, and in 1960, Fairley appeared as Bobo in a military performance of Lorraine Hansberry's play Raisin in the Sun.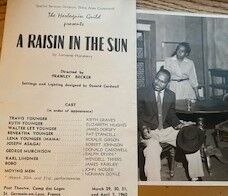 By 1962, 'Big Jim' was reassigned to the 1141st USAF Special Activities Squadron in New York.
He had become a member of the African American Masonic Lodge of Paris, a member of the American Federation of Musicians, and Veterans of Foreign Wars (VFW).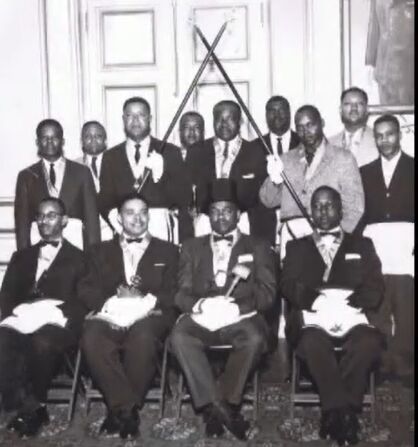 With a 'top secret' security clearance, Fairley was ready for a special assignment and submitted his request to work with the North Atlantic Treaty Organization (NATO)'s Supreme Headquarters Allied Powers Europe (SHAPE), which was located adjacent to Versailles, France until 1967.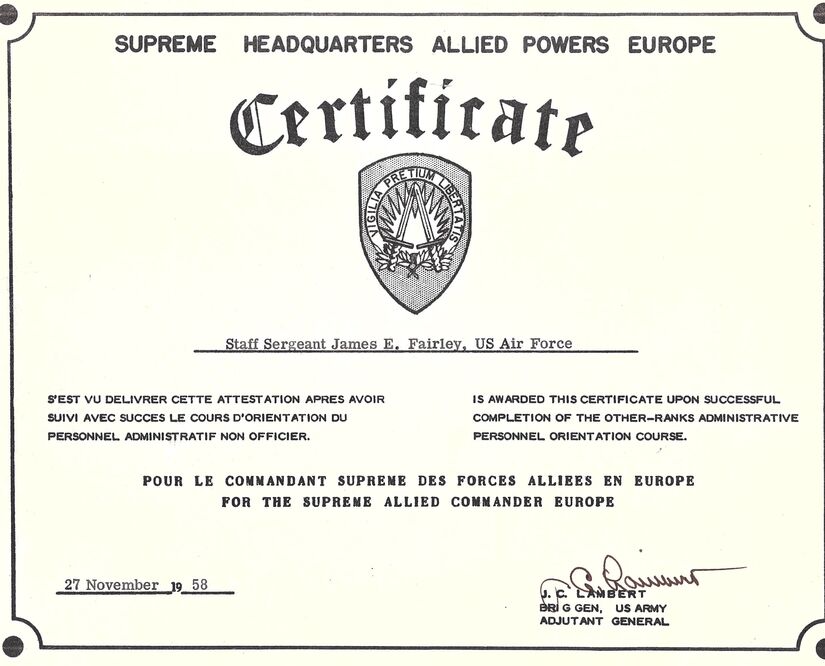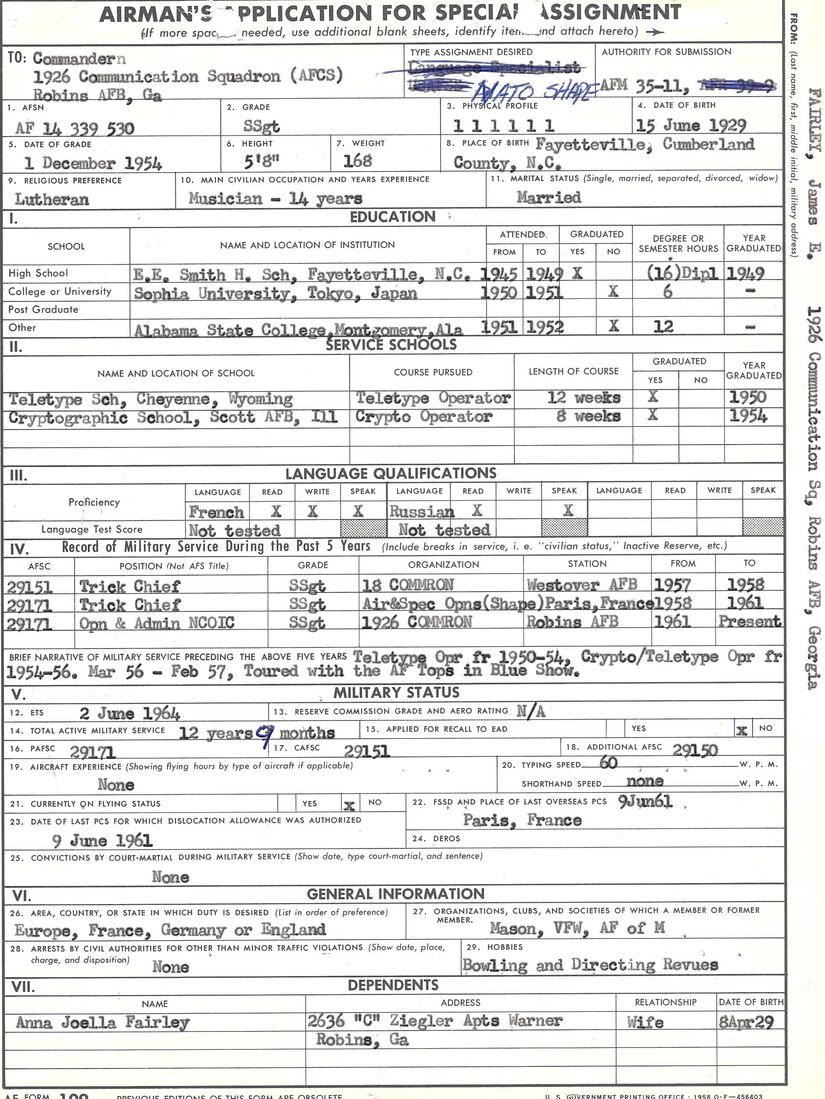 His language qualifications included French and Russian.
After his application for a special assignment was accepted, he was assigned to work within the hallowed halls of Supreme Headquarters Allied Powers Europe.
But as his musical and military career reached new heights, his starter marriage began to crumble.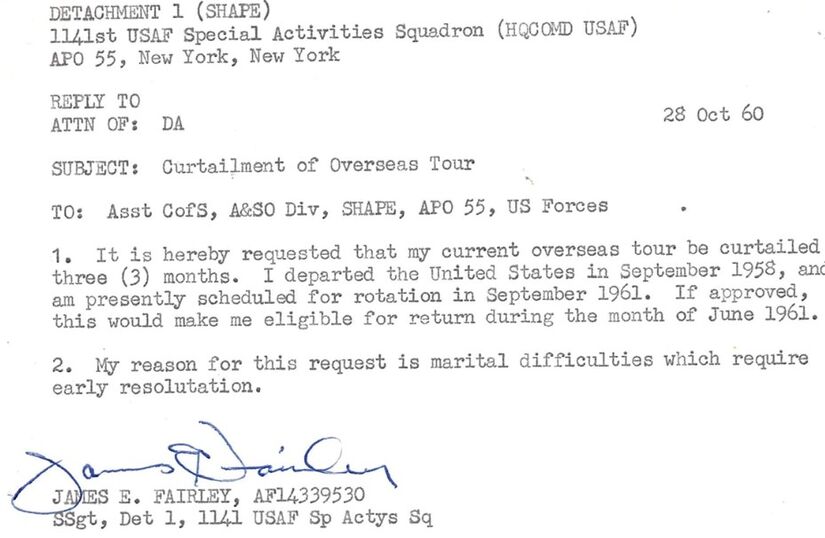 Big Jim took time off to resolve the marital difficulties and eventually divorced the lady whom he had met and married in 1956 at Whiteman Air Force Base in Missouri where she worked.
But because Fairley was a handsome, charming gentleman, however, it wasn't long before he met his second wife in Paris, France.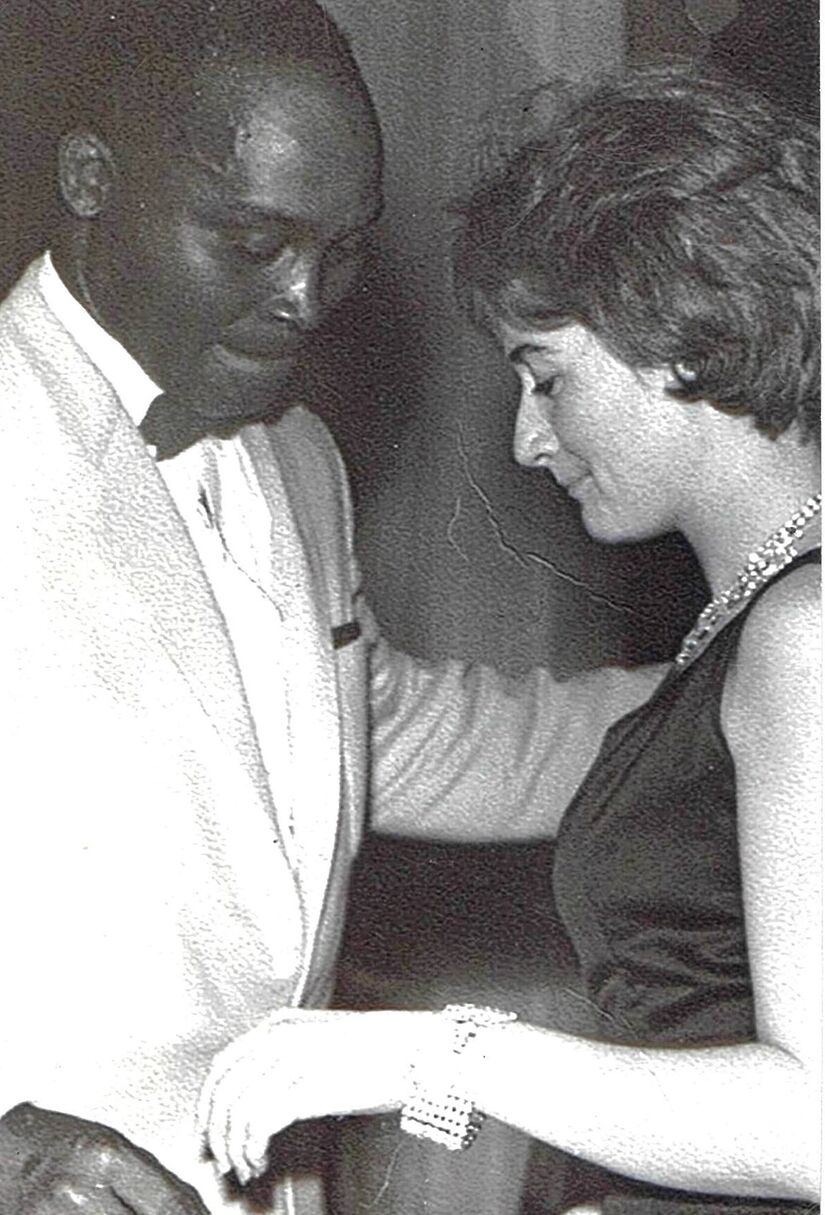 File Attachment